WHO WE ARE
With our team of consultants CRSL is offering since several years Services in consulting and recruitment. Companies are confronted with various requirements in the domain of human resources. We support companies in three areas with our expertise.

Consulting in recruitment and taking care about all phases of a direct search recruitment process. The valorisation of human capital by accompanying companies in the strategic management of competences, that are essential elements in the development of talents. And HR support services to advise and accompany companies in the administrative and strategic management of human resources i.ex. the realisation and follow-up of training plans.

Further on, CRSL can accompany companies over all key steps in the lifecycle of an employee. From the recruitment to the integration in the company, to the career development with the support of various performance and competence evaluations, up to training plans promoting the development and success on the position.

Our Strengths
We base ourselves on a vast organisational and logistic experience in the field of human capital management in order to suggest efficient solutions for job hunting while ensuring the utmost respect of the individual.
Our mastery in the search for experts distinguishes us when it comes to looking for executives and professionals and, in general, in the field of human resources.
The human resource industry is constantly developing. For several years now, the requirements of the clientele have taken new directions in the same way as the expectations of the individuals have grown. Therefore we have set up and are constantly expanding a panoply of assistance and consulting services related to human capital management.

We have set the following objectives for ourselves: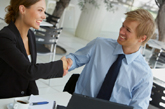 On one hand, to establish a trustful and co-operative relationship with our customers by assisting them in all domains of human resource management through a high-quality and individual service.
On the other hand, to support the applicants by broadening their operative range when searching for a position meeting their expectations and by consulting them in the best possible way to make their ambitions fit their potential.
To fulfill our role as an integer mediator and to get the applicants and the employers to move on side by side!
Expert Resource-Recruitment Services, a resource for everyone's success!