services to the companies
You are an enterprise? Why should you choose us?
The human capital is one of the most important factors to the smooth functioning as well as to the success of your business. You know that, often, your employees make all the difference.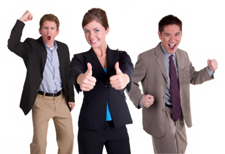 Your objectives
are:

to gather the best staff around you, to lead them, motivate them, convince them
...
You would like them to
become involved
, to
move on
and to
grow
into being a most valuable part of your business.Y ou are aware of the fact that the success of your business depends largely on the commitment of your employees, and we agree with you.
Our mission consists in assisting you in the management of your human resources and in helping you to get the best results out of it.
Our highly professional and individual approach takes into consideration the positioning and the potential of your business and we offer you a whole range of services, consulting and expertise, tailor-made to the conception and expectations of your business:


Expert appraisal, selection and recruitment of executives and professionals
Our aim is a perfect understanding and conciliation of both the employer's and the employee's requirements, subject to the guidelines of mutual respect, trust, integrity and efficiency.

Consultancy and assistance in the management of human resources : training organisation, potential evaluation, competence development, coaching.




Assistance in organisational tasks:
Consultancy in organizing and managing tasks, i.e. setting up, instituting and follow-up of the work procedures according to the ISO 9001:2008 requirements.

Our extra: YOUR EMPLOYER'S INTRANET SPACE.
Simplicity, efficiency, transparency: if you wish to do so, you may - as an employer - closely follow the evolution of the missions that you confided to our organisation...
Please do not hesitate to contact us in order to get privileged access to our employer's intranet space.

More than just results – a real partnership!