LEISURE TIME
The Grand-Duchy of Luxembourg offers a large palette of leisure possibilities. Whether you love nature, sports, arts and crafts, good food, shopping or clubbing –, in Luxembourg, you will find everything you are looking for.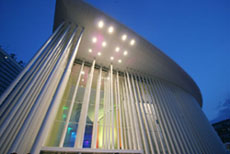 Cultural activities
From renowned concerts and music festivals to multilingual stage performances, art exhibitions and literary events, Luxembourg presents a varied and attractive cultural life.
You will find more information on the site of the National Tourist Office (« Office National du Tourisme »):
lieux de spectacles
musées
As well, there are numerous movie theatres all over the country;
more information on: www.utopolis.lu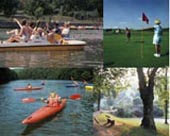 Sports and wellness
Water sport or climbing, riding or adventure playgrounds, hiking or biking, ... Luxembourg offers a panoply of possibilities for those who like to move.



Eating out
Luxembourg is famous as the country presenting the highest number of "star" tables per inhabitant.
Especially the capital offers an extremely diversified gastronomy. The city of Luxembourg does never disappoint you, whether you are looking for a simple but delicious meal, for "haute cuisine" or for exotic specialties.
The "Office National du Tourisme" with its site and especially the rubric « Restaurants », the Luxembourg City Tourist Office with its rubric « Hébergement et gastronomie » as well as the internet sites www.explorator.lu et www.resto.lu will guide you to the country's fine tables and hidden treasures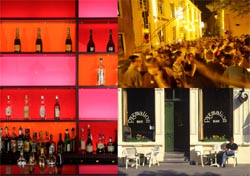 Night life
The main "centres" of Luxembourg City's night life are to be found around the quarters "Alstad" ("old town"), Grund, Clausen and Hollerich.
The locals as well as an international clientele gather in the many small cafés and pubs between the Grand-Duke's palace and the ancient fortress. Everyone will find his favourite spot and during the summer the numerous little patio cafés and the small old alleys are filled with people until the crack of dawn.
But even if the capital is undoubtedly the centre of the Grand-Duchy's night life, you will also find some action in the rest of the country once the sun goes down. Apart from the cafés, bars and night clubs to be found all over the country, balls and traditional feasts are attracting lots of night owls.