our team of experts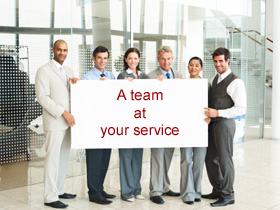 Our team of experts, originating from complementary as well as varied domains such as economics, finance, development and engineering…, accompanies and support its clients and suggests, when required, various strategies in matters of human resource management and staff recruitment in line with established strategies.
The same approach is brought to the applicants: our joint experience in various domains, going from the commercial sector via the service industry and the financial sector to the industrial sector, enables us to understand, conduct and accompany the job applicants in defining their orientations and in making their choice.

From an international point of view,
Expert Resource-Recruitment Services
, a member of a network specialised in Human Ressources, benefits from the assistance and the experience of its
partners established in more than twenty countries worldwide
.