EconomY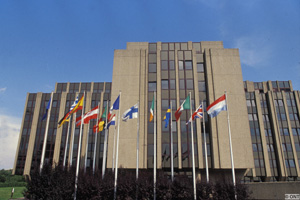 Luxembourg is one of the three seats of the European Union and shelters, among others, the European Investment Bank, the European Court of Accounts, the Publications Office, the Translation Centre and the European Court of Justice.

In both economics and politics, Luxembourg is an estimated and trustworthy partner on the European and international level and a basic element of one of the largest economical and monetary areas worldwide.

The most important advantages of the country lie in its strategic localisation in Europe, the quality of its transport, logistic and communication infrastructures, the availability of a highly skilled and polyglot manpower, its political and social stability, an attractive legislative and fiscal setting, its multicultural environment, an open and international-oriented mind and a high quality of life.
One of the highest standards of living worldwide
According to a survey organized by the magazine « The Economist », Luxembourg ranks 4th in Europe concerning the quality of life.

The cost of living in Luxembourg is more or less equivalent to those of its neighbouring countries (France, Germany, Belgium) whereas the income per person is considerably higher, thereby rating the buying power per person as one of the highest worldwide.
Political and social stability
Luxembourg seems to be one of the few countries where negotiation and dialogue, practised throughout all levels of institutionalised economical and social life, constitute the basis of a peaceful social climate including social progress, social justice and respect of the labourer.
The job market
In 2008, the total employment in Luxembourg amounted to 332.500 persons, thereof 312.200 employees and 20.300 free-lancers.
The Luxembourgish job market is marked by falling back on foreign manpower, a predominance of all kind of services, a low unemployment rate compared to those of the remaining European countries and a continuous economical growth. Whereas the request of jobs for the crafts has decreased, the service industry is constantly expanding and requiring growing parts of the labour force.
In January 2008, 142.673 cross-border commuters worked in Luxembourg with France providing the most important contingent (50%), followed by Belgium (26%) and Germany (24%). 43.5% of the internal hired labour are provided by cross-border commuters.
The Luxembourgish economy is a highly efficient service-oriented economy. It is characterized by the boom of an international financial centre (Luxembourg counts among the 10 first financial centres worldwide, is placed second in matters of investment funds after the United States and is the first international private banking centre of the Euro zone) and the emergence of new service activities as well as the presence of industrial companies specializing in on-the-spot technologies.

The diligently diversified economical landscape brought on the creation and the development of up-to-date activities in the insurance and re-insurance sector, in transports, commerce, tourism, telecommunications, e-commerce, multimedia and business-oriented services.